The global spike in energy costs has led many to find alternative and sustainable fuel sources. There are many options available today and the fastest growing is the solar energy. Solar power systems derive clean, pure energy from the sun. Solar energy is one of the most widely used renewable energy sources. While many people make the switch to solar for its substantial financial benefits, such as lower utility bills, the environmental benefits are equally important. Solar energy not only produces electricity, it also heats, cools, lights and does countless other jobs. Basically, its potential is limited only by our imagination. One of the most creative ways to use solar energy is represented by solar trees.
Solar trees – a natural looking energy generator
Inexhaustible and renewable, since it comes from the Sun, solar energy is harnessed using panels and mirrors. Many of us are familiar with solar panel installations with clean, symmetrical designs on the roofs of buildings, but some innovators are seeking out creative ways to harness alternative energy beyond the conventional methods you've most likely heard of. Solar trees represent a very inventive way to use solar power, proving that solar is not only practical, it can be beautiful at the same time. A solar powered tree is an energy generator with a visual appearance similar to a tree, with the solar panels serving as its leaves. The solar tree has several advantages as it offers more than just energy output from its panels. Like a real tree, solar trees can offer shade, making them ideal for integration into an open park or property.
They also solve space problems and can have customizable options to add features in the shade below the panels, such as attached seating or a table. Read on to check out some of our favorite examples of innovative uses of green technology!
Creative designs of solar trees
Unlike wind or tidal energy where you are, in part, dependent on nature cooperating with your energy-collection efforts, there is very little that can hinder your ability to harness the power of the sun. Solar trees can be more than just a way to get rid of dangerous and expensive power lines and even become an aesthetic calling card. Below we're gonna take a look at some of the most ingenious ways to harness solar energy using solar energy trees.
Solar Tree by Ross Lovegrove
This solar tree is designed by Ross Lovergrove and manufactured by Artemide.  The solar powered street lamp combines an innovative design with the technical performances of LED lighting systems using solar energy supplied from the photovoltaic system. The Solar Tree has an embedded artificial intelligence controlling its energy and light.
[
source
]
[
source
]
[
source
]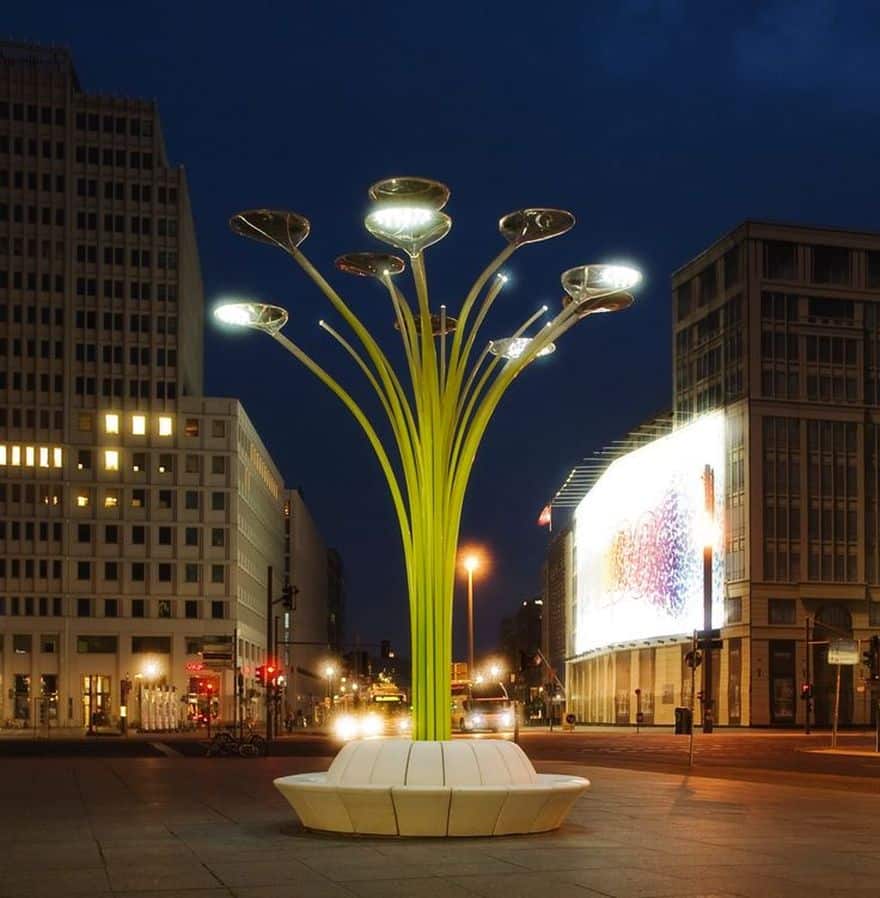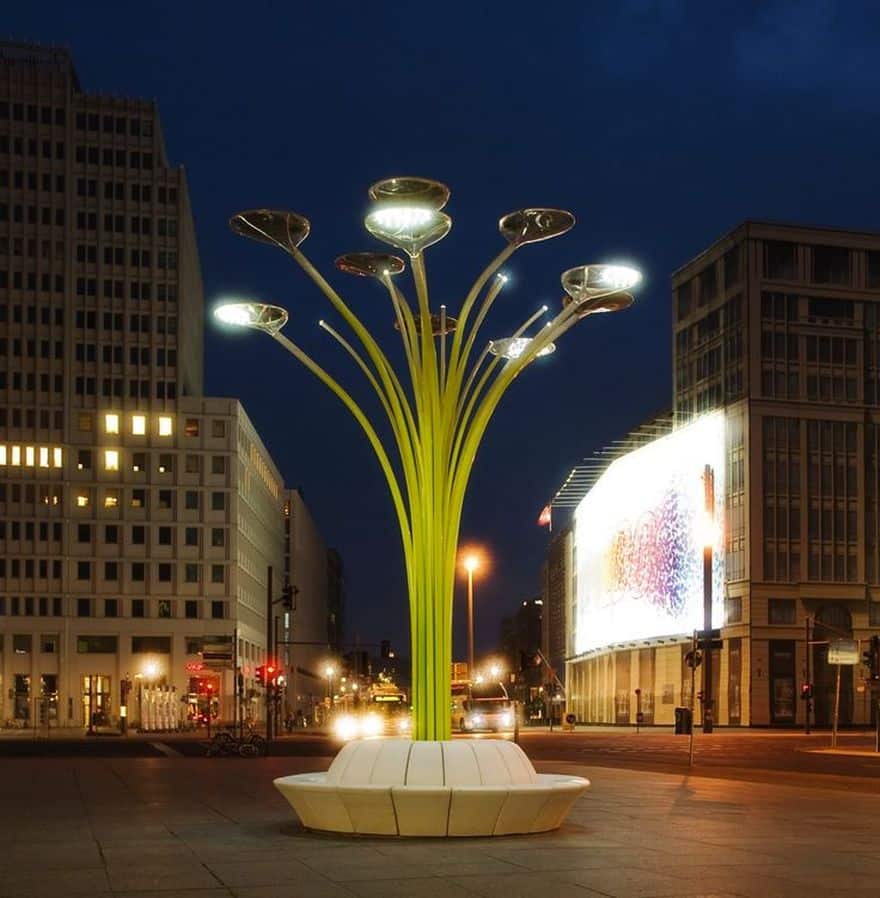 [
source
]
Solar Powered Palm Trees in Dubai
These solar-energy palm trees provide Wi-Fi, charging stations, and much-needed shade.  Smart Palm is the company behind this ingenious endeavor and has so far set up more than 50 Smart Palms in Dubai, located on beaches and public areas in the city. Soaking up the sun during the day, these state-of-the-art trees store energy to be discharged in the evening.
[
source
]
[
source
]
[
source
]
[
source
]
Strawberry Solar Tree
The Strawberry Tree is a public solar charger for mobile devices invented by a group of students from the University of Belgrade. Looking more like an art installation than a public utility, this nature-inspired solar-powered charging station isn't just about charging phones, though. It aims to raise awareness of energy issues and it's also a social space, a point where people can gather and chat.
[
source
]
[
source
]
[
source
]
Singapore's Solar-Energy Supertrees
Designed by Grant Associates for Singapore's largest garden project, the Supertrees are a stunning example of green architecture and are much more than just gigantic tree-shaped edifices. The structures mimic the ecological functions of real trees through their environmentally sustainable features. These solar trees collect rainwater, generate solar power and act as venting ducts for the conservatories.
[
source
]
[
source
]
As you can see in this article,  solar trees bring more than energy. Around the world, they are transforming communities and improving lives. Use the comment section below to tell us what's your favorite project.